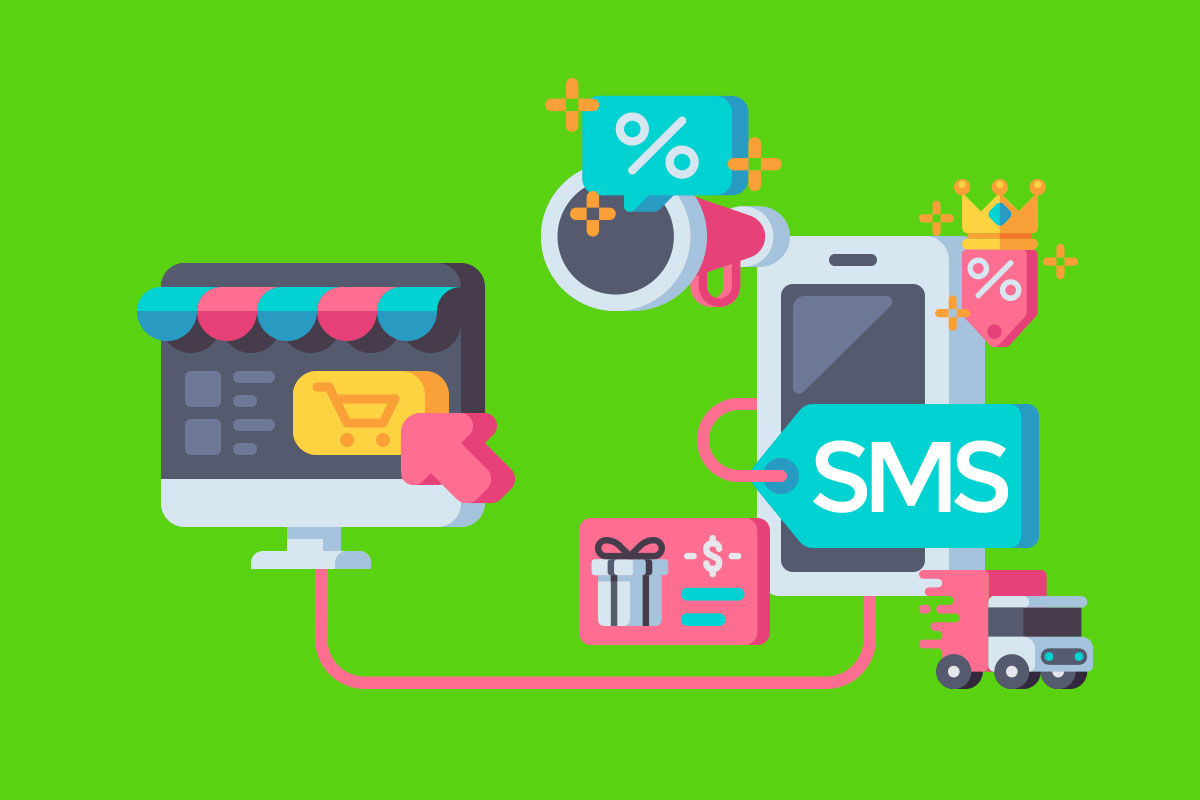 SMS Marketing and E-commerce Integration
E-commerce is now stronger than ever. People are shopping online as frequently as they are shopping in malls, and it's never going to slow down. The thing that makes e-commerce work is the convenience of shopping in the comforts of your home, paired with the peace of mind that your parcel is always safe.
If you didn't know already, a SMS message is the most reliable method of providing your customers with timely live updates. Statistics show that many e-commerce brands earn a 14% click thought rate (CTR) with SMS messages. SMS also has 592% order rates when compared with emails. This is because SMS marketing can help e-commerce companies to increase brand awareness, boost engagement with existing customers and prospects, and generate more sales overall. Read on to discover five simple yet effective SMS marketing ideas that can enrich your e-commerce marketing campaigns.
SMS Marketing Idea #1: Welcome Offers
With the help of SMS marketing, e-commerce brands are able to welcome new customers on a personal level. This goes from greeting their customers by name, to offering special, new user-only promo codes that will trigger their intention to purchase. Apart from that, SMS can also be used to send OTPs (One-time Passwords) to new users for verification purposes, which is much more immediate and effective than email. Efficiency is key when it comes to e-commerce marketing.
SMS Marketing Idea #2: Birthday Offers
On special days such as birthdays, marketers can send personalised birthday greetings and package it with exclusive promotions. For instance, e-commerce vendors can send SMS messages to inform their customers that they have credited a specific amount of money, exclusively for them on their birthday. If you are an opportunist, you can use this to up-sell or even cross-sell your other products. All they have to do is click on the phone notification, and they'll be looking at your promotional material immediately. This is how SMS marketing goes hand in hand with e-commerce marketing.
SMS Marketing Idea #3: New Product Launch and Festive Offers
With the introduction of new trends every now and then, it's imperative that marketers react to them the soonest possible. Fortunately, SMS marketing facilitates immediate response. When new products are launched, or when a festive season arrives - consumers are more than ready to spend. This is when e-commerce marketers leverage on SMS marketing to blast promotional messages and drive sales.
SMS Marketing Idea #4: Reactive Actions to Cart Abandonment
Like all sales platforms, there's always a small chance for consumers to abandon their shopping cart and not proceed with the purchase. Unlike old-school shopping, e-commerce marketers can make good use of SMS gateway API to immediately react to consumers who abandon or leave their online shopping cart unattended. This can be done via a reminder SMS, or by introducing a special promotion to them if they proceed with their purchase. If done correctly, converting your prospects into returning customers is very likely. It can also be used for follow-up purposes.
SMS Marketing Idea #5: Live Status on Orders and Shipping Process
When it comes to providing timely updates, nothing beats SMS messages. If you must know, consumers in general really appreciate e-commerce brands that provide this feature. They are already swamped with emails coming in on a daily basis, and an SMS bypasses all types of clutter. With this, e-commerce brands can use SMS to provide consumers with the shipping information and update them accordingly when the product has been shipped. These are just some of the many benefits of SMS marketing to e-commerce brands.
In a nutshell, SMS marketing is a favourable ally to all e-commerce brands alike. Most importantly, it does not require marketers to adopt or invest in a new system. All that's needed is for them to integrate it with the API provided by SMS marketing companies, such as One Way SMS. One Way SMS has streamlined the integration process to ensure that you'll have a hassle-free experience while you focus on improving the performance of your brand. Once you have successfully integrated SMS marketing into your e-commerce system, focus on the craft of your SMS messages. The key is to keep it short and simple, and identify the correct timings to send them. It's extremely potent and should be included in your e-commerce marketing campaign strategy.